PSPNET Stakeholder Interview Summary
Authors: Hugh C. McCall, M.A., Heather D. Hadjistavropoulos, Ph.D., Amélie K. Fournier, Ph.D., Jody L. Burnett, Ph.D., Janine D. Beahm, M.A., and R. Nicholas Carleton, Ph.D.
Topics: ICBT
PSP
What Did We Do?
Public safety personnel (PSP) work hard to keep Canadians safe. PSP have high rates of mental health problems and often struggle to access effective mental health care, such as cognitive behaviour therapy (CBT). The PSPNET team's mission is to develop and evaluate Internet-delivered cognitive behaviour therapy (ICBT) that is tailored specifically to PSP. ICBT is more accessible than face-to-face CBT and is similarly effective. To inform the development of our program, we conducted and systematically analyzed interviews with PSP. We interviewed 126 PSP from across Saskatchewan and Quebec, including police, fire, EMS, corrections, dispatch, and border services.
What Did We Find?

PSP shared various reasons why they do not seek face-to-face mental health care. They also shared what they perceived to be the advantages and disadvantages of ICBT.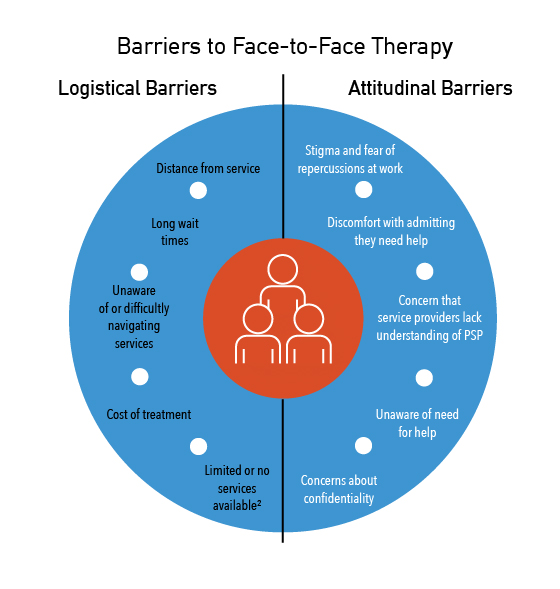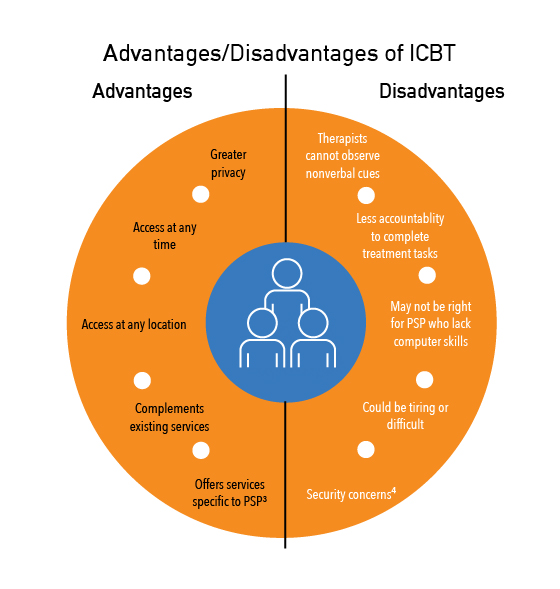 When asked about the content that should be included, stakeholders listed many options. The top six were:
Identifying and understanding symptoms
Relationships and Communication 5
Improving Sleep
Regulating Emotions
Substance misuse/dependency
Real case stories specific to PSP
When asked what PSP want ICBT therapists to know about them, the top six answers were:
They are frequently exposed to potentially traumatic events
They have a high frequency of mental and physical health issues with limited workplace support
There is an expectation of toughness
PSP become pessimistic/jaded over time
It is often difficult to talk to other people about their experiences
They often tend to have Type A personalities and a high need for control
Where Do We Go From Here?
The interviews indicated that there is strong support for ICBT among PSP. We have used the feedback from these interviews to help tailor ICBT for PSP. PSPNET is now being offered in Saskatchewan with plans underway to offer services in Quebec later in 2020
Stakeholders Interviewed