Discussing Trauma at Home
Partners in couple relationships want to be there for each other. When exposure to injury, violence, death, or human suffering is a part of the job for one or both partners, offering support can be difficult. The effects of trauma exposure can linger for PSP after they leave work

. I

t can be challenging to discuss

trauma exposure

in

way

s

that support

the wellbeing of both partners. Setting ground rules about the timing, amount of detail, and frequency of these types of conversations can be helpful

.
Things to consider…
S

haring

the

details

of traumatic work-related events

may not be helpful for PSP

or SSO

s (spouses or significant others).

Deciding w

hat to s

har

e

about

work-related

information

can

depend on

timing, the

past experiences

of each partner,

and

their

emotional state

s

at the time.

Focusing on connecting with

each other

rather than the details of

traumatic

event

s

can

b

enefit

both partners.

Being

sensitive during conversations can support both partners to navigate difficult experiences.

Attending

to wellbeing

(personal, couple, and famil

y

)

and

connecting

with

support outside the family when needed.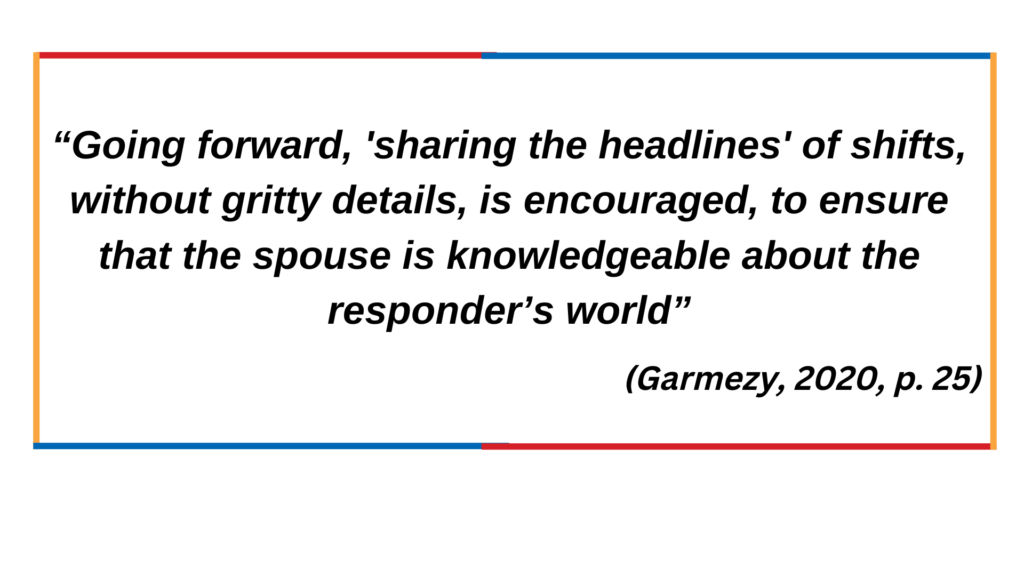 References for this page (click to expand)
CIPSRT (2020). Glossary of Terms Vicarious Traumatization. CIPSRT-ICRTSP. https://www.cipsrt-icrtsp.ca/en/glossary/vicarious-traumatization   
Garmezy, L. (2020). Swimming Upstream: The First Responder's Marriage. In C. A. Bowers, & M. R. Marks (Eds.), Mental health intervention and treatment of first responders and emergency workers (pp. 16-31). Medical Information Science Reference/IGI Global. https://doi.org/10.4018/978-1-5225-9803-9.ch002  
Kim, J., Chesworth, B., Franchino-Olsen, H., & Macy, R. J. (2022). A scoping review of vicarious trauma interventions for service providers working with people who have experienced traumatic events. Trauma, Violence, & Abuse, 23(5), 1437-1460. https://doi.org/10.1177/1524838021991310  
Yassen, J. (1995). Preventing secondary traumatic stress disorder. In C.R. Figley (Ed.). Compassion fatigue: Coping with secondary traumatic stress disorder in those who treat the traumatized (1st ed.). (pp. 165-189). New York: Brunner Mazel. 
Was this resource helpful?