Providing Eldercare
Topics: Couples, Family, Mental Health
What is eldercare? How can it affect families?
Eldercare refers to the care of older adults, often by their adult children. Those supporting elders take on a wide range of caregiving responsibilities like helping to support health appointments, nutrition, finances, and household management. Caring for older adults in poor health, particularly those living with dementia also involves significant emotional labour. When families engage in eldercare, the additional and ongoing demands on time and emotional energy can be difficult to manage.
---
How does eldercare affect PSP families?
---
Benefits and challenges of eldercare
Many families care for elderly family members who need assistance with daily living. This is a choice they make which has many rewards. The additional responsibilities, however, can be underestimated. This can be particularly challenging for PSP families who are faced with irregular work schedules and high job demands.
Benefits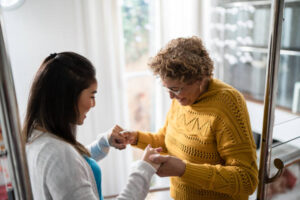 Intergenerational connections
Peace of mind
Strengthened family bonds
Demonstration of love and affection
Challenges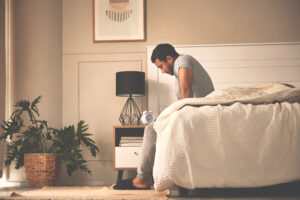 Increased family responsibilities
Potential conflicts with work
Worry and anxiety
Added household expense
Was this information helpful?
Strategies related to this topic
References for this page (click to expand)
Cattanach, L., & Tebes, J. K. (1991). The nature of elder impairment and its impact on family caregivers' health and psychosocial functioning. The Gerontologist, 31(2), 246–255. https://doi.org/10.1093/geront/31.2.246  
Chassin, L., Macy, J. T., Seo, D. C., Presson, C. C., & Sherman, S. J. (2010). The association between membership in the sandwich generation and health behaviors: A longitudinal study. Journal of Applied Developmental Psychology, 31(1), 38–46. https://doi.org/10.1016/j.appdev.2009.06.001  
Duxbury, L., Halinski, M., & Stevenson, M. (2022). Something's Gotta Give: The relationship between time in eldercare, time in childcare, and employee wellbeing. Journal of Aging and Health, 34(6–8), 1101–1116. https://doi.org/10.1177/08982643221092876  
Duxbury, L., & Higgins, C. (2012). Caring for and about those who serve: Work-life conflict and employee wellbeing within Canada's police. Sprott School of Business, Carleton University. 
Herron, R. V., Funk, L. M., & Spencer, D. (2019). Responding the "wrong way": The emotion work of caringfor a family member with dementia. The Gerontologist, 59(5), e470–e478. https://doi.org/10.1093/geront/gnz047
Riley, L. D., & Bowen, C. P. (2005). The sandwich generation: Challenges and coping strategies of multigenerational families. The Family Journal: Counseling and Therapy for Couples and Families, 13, 52-58. http://dx.doi.org/10.1177/1066480704270099  
Strategies for Families
Strategies for Couples